Our Work
Appraisal Bias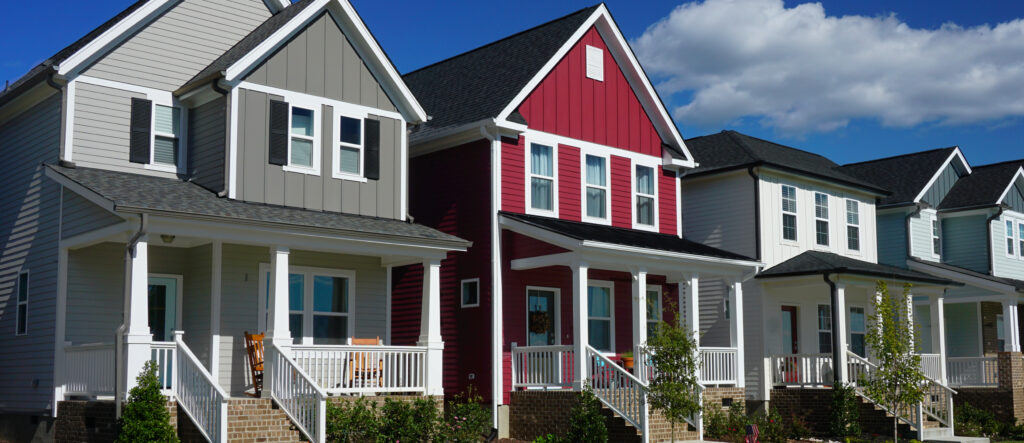 Background on this issue
For most Americans, their home is their single most important financial asset and holds the key to wealth, stability, and opportunity for their family and generations to come. In addition, home values affect the tax base, school funding, and community investments. Moreover, time and again, our nation's economy and financial markets have been significantly impacted by home valuations, with communities of color often bearing the brunt of failings in the mortgage market and the home appraisal process. Given the importance of homeownership to American families, particularly families of color, governmental and private organizations have called for appraisal reforms and a comprehensive examination of the structure and governance of the appraisal industry.
In response to these calls for reform, we have assembled the following resources, which we hope will encourage conversations among key stakeholders in the appraisal and housing industries to seek workable, sustainable solutions that benefit the whole of the housing market, including borrowers of color. In addition, we have provided resources to file a discrimination complaint if you think you received a discriminatory appraisal.
Automated Valuation Models
NFHA partnered with the National Consumer Law Center (NCLC) to submit comprehensive comments to federal regulators on their Notice of Proposed Rulemaking (NPRM) regarding Quality Control Standards for Automated Valuation Models (AVMs). The dangers that can be posed by AVMs as they may perpetuate, amplify, and masquerade appraisal bias. Discrimination in the appraisal market is a safety and soundness risk and threatens our financial marketplace and economy. There is no question that discriminatory mis-valuations are a historical and present phenomenon, and AVMs — like any technology — can manifest bias that harms consumers and communities. Our joint comment urges federal regulators to use this opportunity to make it clear that federal statutes prohibit the use of discriminatory AVMs, and to require that AVMs must be reviewed for both disparate treatment and disparate impact. Our comment also makes the following points:
The Final Rule should use a principles-based approach to regulation;
The Rule should be broadly applied to AVMs used for a wide variety of purposes; and
Federal regulators should release loan-level appraisal data to ensure robust compliance with the law.
NFHA's first Tech Equity Hackathon was designed to help identify and measure appraisal bias in AVMs. The outcome of that exercise demonstrated that AVMs have the potential to spread discrimination and harm consumers. Our work to audit AVMs revealed the same dangers. It is imperative that federal regulators take every necessary measure to protect consumers and communities from bias.
Report Appraisal Discrimination
If you think you have experienced appraisal discrimination, click here to learn about your options.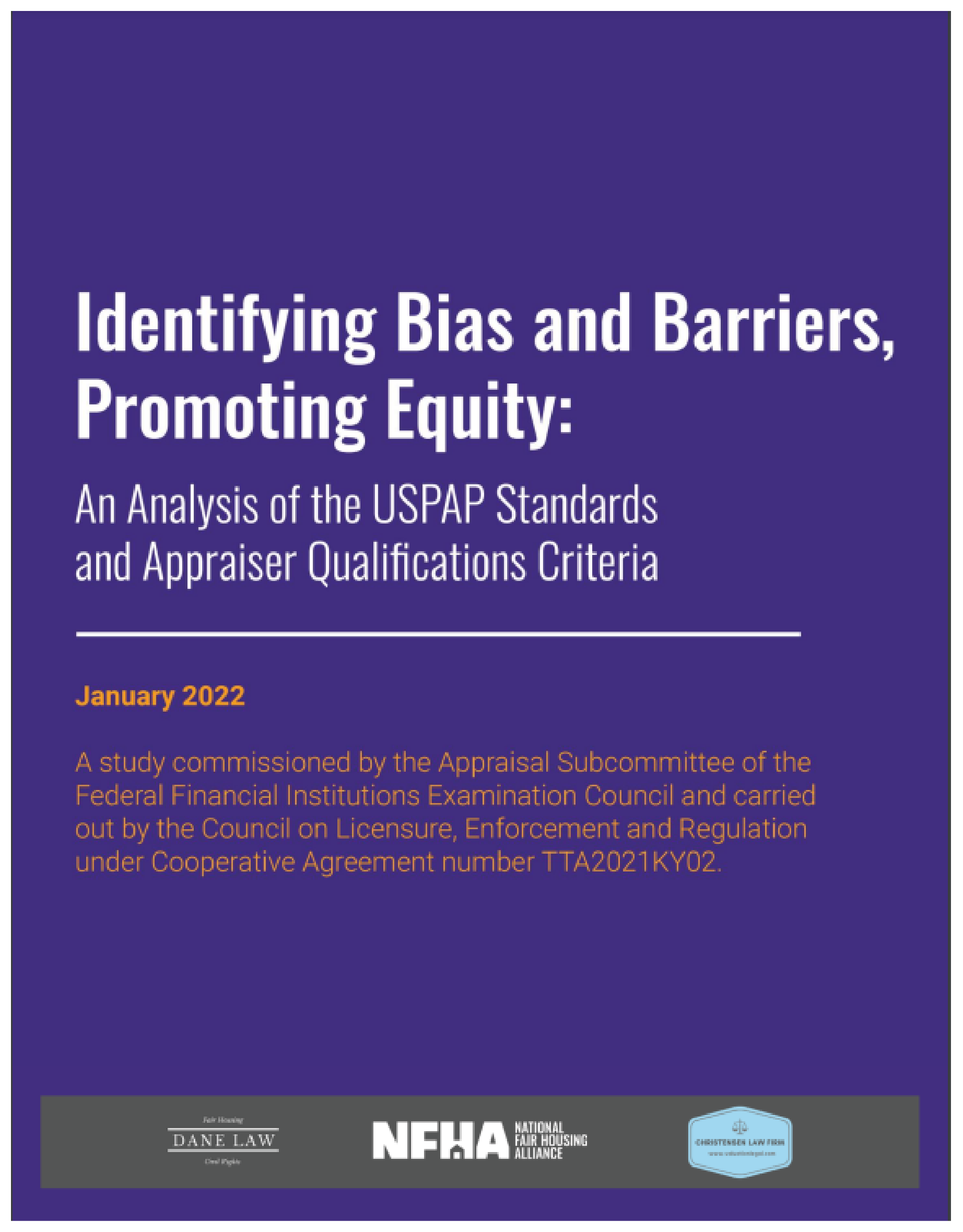 An Analysis of the USPAP Standards and Appraiser Qualifications Criteria
Identifying Bias and Barriers: Promoting Equity
Background on the report –
This groundbreaking report examines standards for the appraisal industry as well as qualifications criteria for appraisers. It details structural components of the modern-day appraisal industry that restrict meaningful industry oversight and manifest systemic bias in appraisal valuation, including issues with the governance of the appraisal industry, gaps in fair housing requirements and training, barriers to entry into the profession, and deficient compliance oversight in administering the valuation process.
Table of Contents
The appraiser has the power to determine the value of a mortgage borrower's most important financial asset, which can hold the key to determining whether that borrower's family can purchase a permanent home rather than rent, access credit on reasonable terms, or build wealth for their family and generations to come. Over time, Americans have seen many crises related to homeownership (the Savings and Loan Crisis, the Great Recession, the COVID pandemic) and each time, the housing market players were heavily scrutinized and regulated to prevent harm to the American consumer's greatest asset…
Appraisers can determine the value of a person's most important financial asset, which can hold the key to determining whether a family can purchase a permanent home rather than rent, access credit on reasonable terms, or build wealth for their children and generations to come.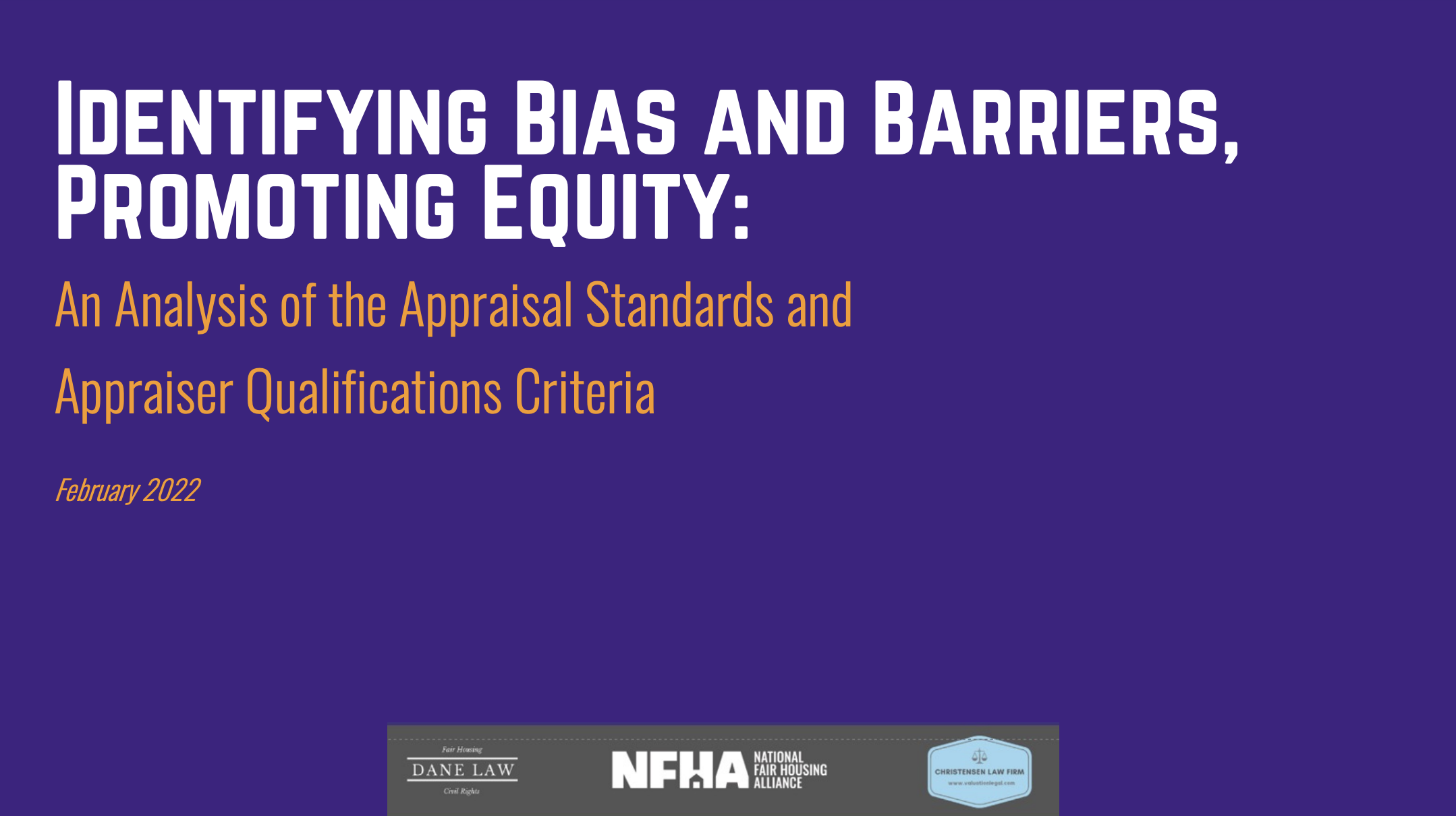 Appraisal Standards and Appraiser Qualifications Criteria
Virtual Briefing
On Wednesday, February 9, 2022, the authors of the groundbreaking new study on appraisal standards and appraiser criteria hosted a Virtual Briefing to discuss key elements of the "Appraisal Standards and Appraiser Criteria Report" ("Report"). Our presentation offered a roadmap for Congress, regulators, advocates, lenders, and the appraisal industry to address the nation's long legacy of bias in the valuation of real estate and build a future in which a family's most valuable asset is treated fairly.
On January 12, 2023, Brookings Metro and the National Fair Housing Alliance co-hosted a screening of an excerpt of the documentary "Our America: Lowballed," in which NFHA is featured. The screening was followed by a discussion of racial bias in the home appraisal process, the effects on majority-Black neighborhoods, and reforms and rules that can be implemented at the federal level to remove discrimination from every stage of the home valuation process. Watch a recording below.