11/16/2021
Fair Housing Month Keynote Event | April 27, 2021 | Highlights
Fair Housing Month is a great opportunity to celebrate the anniversary of the 1968 Fair Housing Act's passage and reflect on what still needs to be done to fully realize the law's stated goals of eliminating housing discrimination and residential segregation.
As envisioned, the Fair Housing Act continues to be an important tool for achieving justice and equality, but our nation struggles to enforce it's provisions, and today, there are more than 4 million acts of discrimination a year based on race, disability, color, religion, national origin, familial status, and sex. Other emerging issues such as algorithmic bias impede the ability for all people to access equal housing and lending opportunities, which further entrenches economic, health, and wealth disparities in our society.
As we reflect on the impacts of the fair housing movement, the National Fair Housing Alliance (NFHA) hosted a virtual event featuring key expert perspectives on past fair housing actions how we should move forward to address longstanding and emerging issues.
Opening Statement
NFHA acknowledges the leading government entities and publics partners who continue to support the movement for fair housing, equal opportunity, and equity. NFHA was honored to have featured Opening Statements from Donald K. Sherman, Special Assistant to the President for Racial and Economic Justice.

Prior to joining the Biden-Harris Administration, Donald K. Sherman was Deputy Director of Citizens for Responsibility and Ethics in Washington, a non-partisan government accountability watchdog. Mr. Sherman has served as Chief Oversight Counsel, to the late Rep. Elijah E. Cummings on the House Oversight Committee, and has served in the Obama-Biden Administration as Chief of Staff and Senior Counsel for Oversight and Investigations in the Office of General Counsel at HUD.
Keynote Address
Secretary Marcia Fudge, the 18th Secretary of the U.S. Department of Housing and Urban Development joined NFHA for a special Keynote Address. Marica Fudge has committed her entire career fighting for equitable housing, transportation, and education opportunities for Americans across the country, and we are privilege to work alongside the Secretary to further our national commitment to fair housing and equal opportunity.
…we will not be distracted, we will not be dissuaded, and we will not be denied by the enemies of progress.

Secretary Marcia Fudge, the 18th Secretary of the U.S. Department of Housing and Urban Development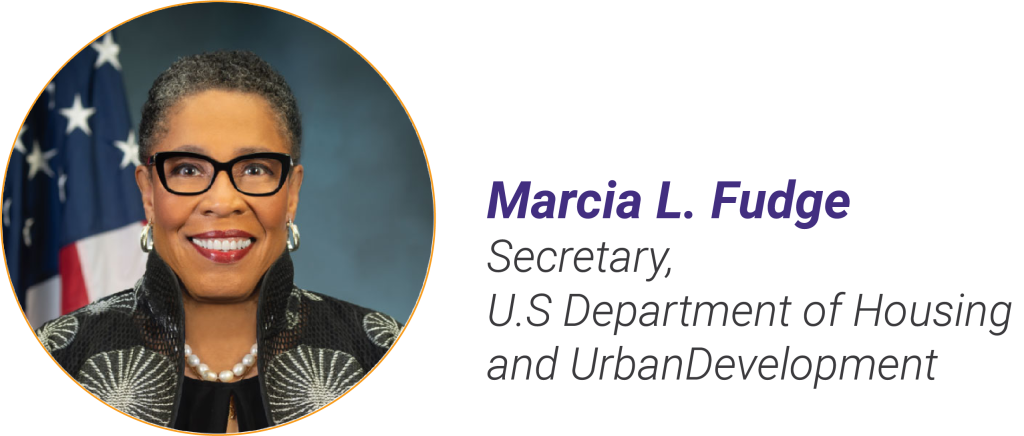 Secretary Marcia L. Fudge has committed her career to advancing equal access in housing choice and opportunities for Americans. Prior to her service with HUD, Secretary Fudge served as U.S. Representative for the 11th Congressional District of Ohio from 2008 to 2021. She served on several Congressional Caucuses, was past Chair of the Congressional Black Caucus, and was elected the first female and first African American mayor of Warrensville, Ohio. Read more…
Panel Discussions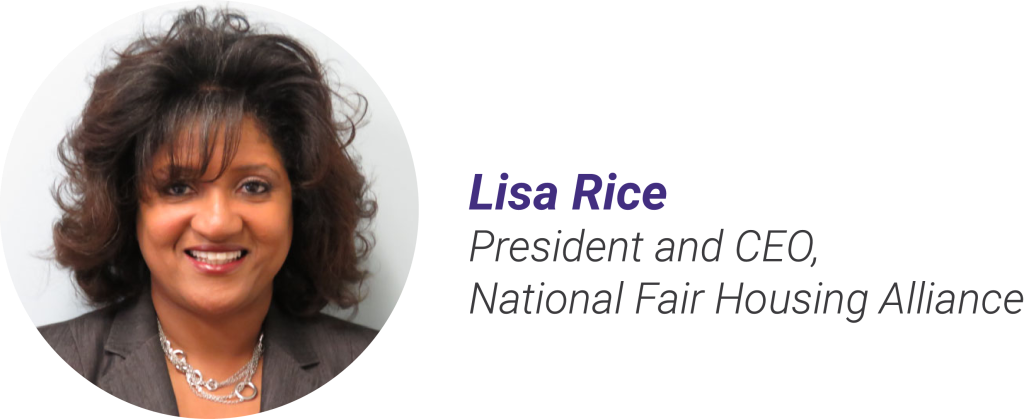 Moderator, Lisa Rice
As President and CEO of the National Fair Housing Alliance, Lisa Rice leads the organization's efforts to advance fair housing principles and preserve and broaden fair hosing protections, expanding equal housing opportunities for millions of Americans. Ms. Rice played a major role in crafting sections of the Dodd-Frank Act, and in establishing the Office of Fair Lending within the Consumer Financial Protection Bureau. Read more..
Featured Panelists | Panel 1

Ms. Lee Porter is known as the Mother of Fair Housing, and is a founding member of the National Fair Housing Alliance. Among her many achievements, in 2019 Ms. Porter received a Phoenix Award, the highest honor given by the Congressional Black Caucus. Read more…

Another founding member of the National Fair Housing Alliance and key expert was Mr. Bill Tisdale. By his leadership as CEO of Metro. Milwaukee Fair Housing Council, the Council has brought precedent-setting cases in fair housing, fair lending, and redlining to our nation.

It was our privilege to be joined by Gustavo Velasquez, former Senior Director at Urban Institute, and former Assistant Secretary for Fair Housing and Equal Opportunity at HUD. Gustavo oversaw the promulgation the 2015 Affirmatively Furthering Fair Housing Rule and played a seminal role in advancing housing equality throughout our nation.
Featured Panelists | Panel 2
Karen Tamley is CEO of Access Living, a Chicago-based service and advocacy non-profit organization for people with disabilities. A national leader in advancing accessibility and disability inclusion, Ms. Tamley was appointed by President Barack Obama to serve on the United States Access Board in 2016 – in 2019, she served as the Chair of that distinguished body.
Jillian White is the Head of Collateral at Better.com which is a direct lender dedicated to providing fast, transparent digital mortgage experiences. Here, Jillian is responsible for the systems and procedures for managing and reviewing appraisals. Jillian joined NFHA's panel to share her and her family's personal experiences in accessing housing opportunities.
Dr. Michael Akinwumi leads NFHA's Tech Equity Initiative where he implements the Initiative's goals of debiasing housing and financial services technologies, increasing diversity in the industry, developing policies that promote more effective oversight for algorithmic-based tools, and advancing research to reduce bias in tech. Previously, Michael led governance engineering efforts at a FinTech by minimizing exposures to regulatory risks, and pioneered the use of machine learning solutions in auto and property insurance pricing of a P&C insurance company.