6/8/2022 @01:00 pm
[FACEBOOK LIVE] Building a Fair Housing Bridge to the LGBTQAI+ Community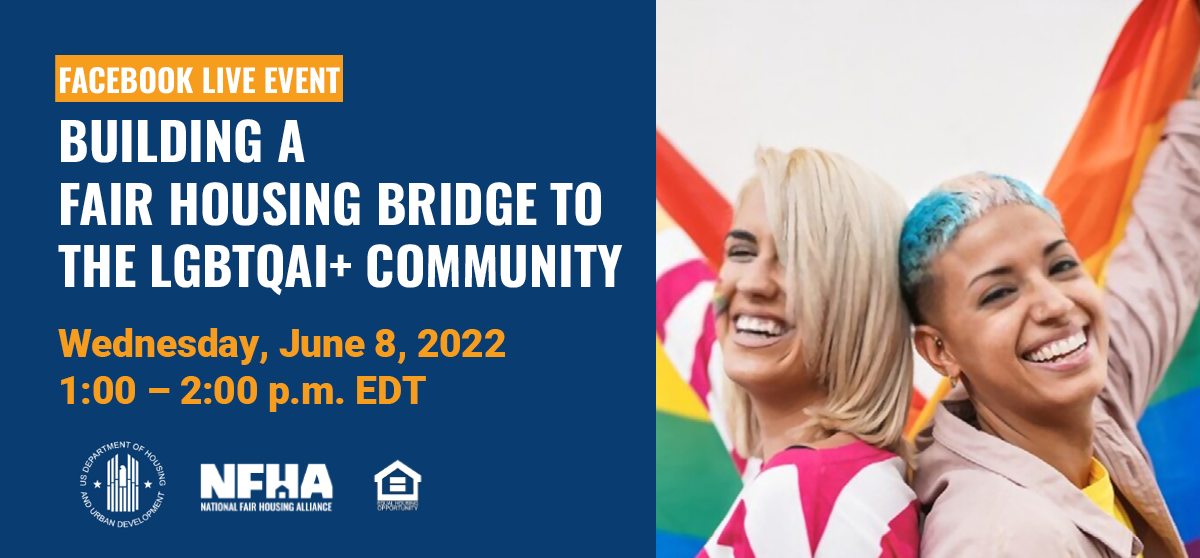 In January 2021, President Biden issued Executive Order 13988 on Preventing and Combating Discrimination on the Basis of Gender Identity or Sexual Orientation, which directs federal agencies to utilize federal laws that prohibit sex discrimination to combat discrimination based on sexual orientation and gender identity. Based on this order, HUD's Office of Fair Housing and Equal Opportunity was directed to fully enforce the Fair Housing Act to address discrimination because of sexual orientation and gender identity, and this applies to FHAP and FHIP agencies as well. Based on NFHA's focus group testing conducted in 2021, most people in the LGBTQ+ community do not know their fair housing rights.
For Pride Month, the National Fair Housing Alliance hosted a Facebook Live Event during which we explored ways to build bridges with organizations that serve the LGBTQAI+ community. We also discussed steps that fair housing groups and industry partners can take to make their workplaces more inclusive of people from the LGBTQAI+ community.
Facilitator:
Victoria Kirby York, Deputy Executive Director, National Black Justice Coalition
Opening Remarks:
Demetria McCain, Principal Deputy Assistant Secretary, HUD Office of Fair Housing and Equal Opportunity
Speakers:
Jorge Soto, Associate Vice President of Advocacy and Government Affairs, National Fair Housing Alliance
Ming Wong, Supervising Helpline Attorney, National Center for Lesbian Rights
Dr. Imani Woody, President and CEO, Mary's House for Older Adults
Speakers
Jorge Andres Soto is responsible for advancing NFHA's public policy priorities and directing the organization's federal and congressional advocacy. Through local and national coalition-building, Mr. Soto designs strategies to advocate for policies that help protect individuals from housing discrimination, strengthen access to justice for victims of housing discrimination, and remove obstacles to housing opportunity. He leads NFHA's efforts on issues concerning the federal budget and appropriations, housing and housing-related legislation, and executive nominations. Mr. Soto also staffs the Fair Housing Task Force of the Leadership Conference on Civil and Human Rights, which NFHA co-chairs with NAACP LDF.
Ming Wong is the Supervising Helpline Attorney at the National Center for Lesbian Rights, and is the staff attorney for the Immigration Project, providing legal services for LGBTQ immigrants including asylum seekers and refugees. He also leads their Rural Pride program, whose aim is to build connections between national and local advocacy and community organizations and community leaders in rural communities, to ensure that the concerns facing LGBTQ+ people in rural communities inform all of our work. He helped develop and runs their legal services training program, which provides resources to legal aid and legal services organizations seeking to provide culturally competent legal services to low-income LGBTQ+ clients. Ming is an immigrant to the U.S. He believes that LGBTQ+ people deserve to find community and acceptance wherever they live.
Dr. Woody is an internationally and nationally recognized thought leader and an advocate of women, people of color and lesbian, gay, bisexual, transgender, queer/same-gender loving (LGBTQ+/SGL) people for more than 25 years. She has spoken out nationally and internationally about the circumstances of elder LGBTQ+/SGL individuals and the specific jeopardies that LGBTQ+/SGL elders of color face as they age. Dr. Woody brought these perspectives and decades of community praxis to the first White House Summit on LGBT elder housing development and partnered with SAGE as a panelist in their National LGBT Elder Housing Symposiums. In 2021, Dr. Woody was invited to the White House by Vice President Harris to join a small, intimate group to discuss issues that impact LGBTQ/SGL elders. Most recently, she was invited by the Biden Administration to meet with its highest-ranking lesbians to discuss matters impacting lesbians and women loving women.
Dr. Woody retired from AARP to become a pioneer in the building of alternative housing and creating welcoming environments. She is the founder and CEO of Mary's House for Older Adults, (MHFOA) with the vision and commitment to serve LGBTQ+/SGL elders, experiencing housing insecurity and isolation. Dr. Woody has secured funding required to begin construction of a 15-room communal residence in WDC and the only one in the country.